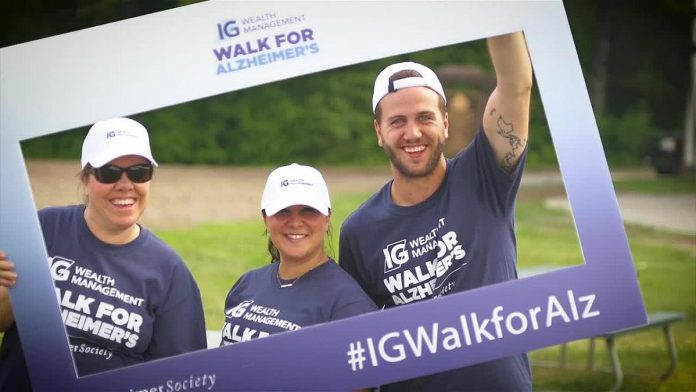 Heather Marriott says she will never forget where she was and, more notably, what she heard on July 22, 2020.
"The doctor said 'Your mother has Alzheimer's'," recalls the Roseneath resident, adding "Those are four words that just ripped my heart out. It was devastating to say the least."
"I work in a health care-related field, so I have some knowledge of Alzheimer's and dementia. I tried to prepare as much I could, and tried to prepare my dad, my sister and brother, and especially my kids. The worst-case scenario was that it was Alzheimer's, but it was all theory until you hear the words."
What followed was something that thousands of families have done when a loved one is diagnosed with Alzheimer's — the family rallied big time around its matriarch, Sheila Surerus.
VIDEO: Register for the 2022 IG Wealth Management Walk for Alzheimer's

No better example of that can be found than its participation in the 2021 Walk For Alzheimer's that saw Team Surerus raise about $14,000 for the work of the Alzheimer Society of Peterborough, Kawartha Lakes, Northumberland and Haliburton — the highest amount raised by any team that participated.
A year later, Team Surerus is back at it, fundraising for the 2022 walk at Trent University on Saturday, May 28th. Team members' purple T-shirts, emblazoned with Forget-Me-Not flowers and the words Team Surerus, are ready to go.
After registering, teams will walk 10,740 steps around the Justin Chiu Stadium track — one step for each person currently living with dementia in the region.
According to event organizer Ryan Arnold, the local society's donor relations coordinator, last year's walk raised just under $100,000. In keeping with the 10,740 steps goal, it's hoped $107,400 will be raised this time around with IG Wealth Management again on board as the title sponsor.
"I'm counting down the days," says Arnold, noting 130 participants were registered as of May 5, most as members of 21 teams and the remainder as individuals. Last year at this time, 80 had signed up.
Tweet this quote
While the centre of the event universe will be at Trent University on May 28, Arnold notes participants can opt to get in their 10,740 steps over the course of several days — "Whatever fits their schedule and their physical abilities."
All money raised, adds Arnold, goes directly to support the local society's work, mostly to the provision of programs and services. The need, he adds, is clear.
"Our region has one of the highest percentages of dementia in Ontario," he points out. "Anyone you talk to knows someone who has it, or has been affected by it. Everyone has some kind of story, some kind of connection, to Alzheimer's."
Marriott certainly knows that to be true when it comes to her mother.
"We kind of suspected something wasn't right, probably at least two years before her actual diagnosis," she says, describing the progression of the disease that is the most common type of dementia.
"She was always very generous and very involved in the community," Marriott recalls. "She put everyone else's needs before her own. She was very active. But her personality started to change. She was short with people. She was impatient. She was forgetting things."
"She had gone through a lot of stress for a few years, so we kept explaining it away. It got to a point where it was like 'Okay, this is not normal stress.' Our gut instinct was there's something wrong. Has she had a stroke? Is there a brain clot? There's something going on that's not normal for her."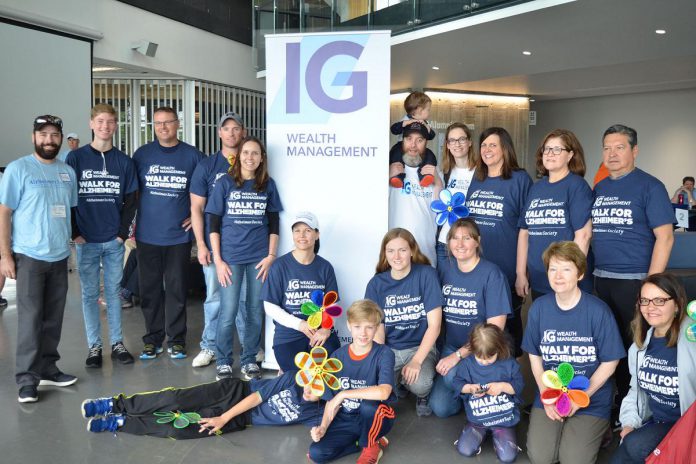 Tweet this quote
That was confirmed when Surerus was diagnosed at age 68 following a doctor's referral to the Kawartha Centre, a Peterborough healthy aging-focused facility where her memory was assessed.
"You picture someone with Alzheimer's and it's someone that's frail and elderly," says Marriott. "If you meet my mom, she presents so well you would never know that she has Alzheimer's."
"The people that are living with her and seeing her day-to-day have seen the changes in her but, to this day, if you met my mom, she would carry on a perfectly normal conversation. You wouldn't have any idea that there's a problem with her memory."
Describing the current level of her mom's Alzheimer's as "fairly mild to moderate," Marriott acknowledges there's a rough road ahead — particularly for her father.
"It's been hard on him. This isn't something you sign up for when you get married. It's a learning experience for us all, but he's really been a champ."
"We try not to look too far ahead. We know that functioning-wise, it's not going to get any better. We need to make the most of every day. Our family is very close. She has a huge support group. And she's involved with the Kawartha Centre and involved in a research study, so she's on an experimental drug. There's a little bit of hope that taking part in that study may delay the inevitable."
In the meantime, Marriott has made it her business to learn as much as she can about dementia as she can. The local society, she says, has been "amazing" in terms of education and support provided.
"I thought I knew a lot about dementia and Alzheimer's but I had no idea. They do an online Minds In Motion webinar. It's partly brain exercises and things that the person with Alzheimer's and their caregiver can do together. Mom takes part and quite enjoys it."
On May 28, Surerus' family and friends will actually do two walks, first getting together in Roseneath at the fairground track "for those who can't get up to Peterborough" before heading to Trent University for the main event.
As she reflects on the 2021 experience, that saw Team Surerus walk in Roseneath only as the regular event was held virtually only due to the pandemic, Marriott is buoyed by the memory of her mom's happiness over simply being out and about with her family and friends.
"She was like a kid in a candy store. It was so great to see a permanent smile on her face all day. Getting pictures with everybody. Being herself."
Tweet this quote
As for the 2022 walk, close to $27,000 — 24 per cent of the walk goal — had already been raised by the first week of May. Arnold says his focus now is on providing support to participants, adding teams and individuals can register right to up to walk day.
To register for the 2022 IG Wealth Management Walk for Alzheimer's, visit www.walklocal.ca, where donations to participating teams and individuals can also be made. Meanwhile, donations can be made directly to Team Surerus at www.alzgiving.ca/goto/Team-Surerus.
Whatever the outcome of the 2022 walk in terms of dollars raised, Arnold says the value of the heightened awareness piece can't be underestimated.
"Not everyone knows we exist or what we do, so it's really important to keep getting our name out there and let people know that we're here," he explains.
VIDEO: Who are you walking for?

Alzheimer's is a neurodegenerative disease that usually starts slowly and progressively worsens. It is the cause of an estimated 60 to 70 per cent of dementia diagnoses, with over 500,000 Canadians currently living with dementia.
The most common early symptom is short-term memory loss or remembering recent conversations, details, and events. As the disease progresses, symptoms can include problems with language, disorientation, mood swings, loss of motivation, self-neglect, and behavioural issues.
For more information about the Alzheimer Society of Peterborough, Kawartha Lakes, Northumberland and Haliburton and the services it provides, visit alzheimer.ca/pklnh.
This branded editorial was created in partnership with the Alzheimer Society of Peterborough, Kawartha Lakes, Northumberland and Haliburton. If your business or organization is interested in a branded editorial, contact us.